Caseinpepton-Sojamehlpepton-Agar mit LTH (TSA-LTH)
| | |
| --- | --- |
| Abbreviazione: | TSA-LTH |
| Numero articolo: | 50-1531 |
| Scheda: | Contact plate |
| Colore: | Yellow |
| Condizioni di stoccaggio prodotti: | Dry, in closed bag, at 15 – 22°C. |
| Data di scadenza: | 6 Months |
| Valore pH: | 7.3 ± 0.2 bei 25°C |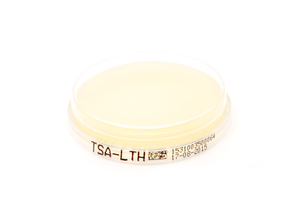 Tryptone Soya Agar is a highly nutritious universal medium for the testing non-sterile products. It is suitable as an inhibitor-free culture medium for the isolation and cultivation of various fastidious bacteria, yeasts and moulds (aerobic and anaerobic).
The variety of detectable microorganisms with Tryptone Soya Agar is due to he casein protein components in the nutrient medium being enzymatically hydrolysed into peptones. This makes it possible to isolate and detect bacteria including: Listeria spp, Pasteurella spp, Vibrio spp, Haemophilus vaginalis or Candida albicans.
Tryptone Soya Agar does not contain any carbohydrate, so it can be used for the study of hemolytic reactions. The European Pharmacopeia recommends Tryptone Soya Agar for total bacteria enumeration in products under examination by this pour or spread plate technique.
Die Addition of lecithin, Tween 80 and histidine neutralises the inhibitory effect on growth caused by aldehydes contained in many detergents and disinfectants, phenols, Hexachlorophene, chlorhexidine, formaldehyde and quaternary ammonium compounds used in preservatives and biocides.
| in g per 1 litre of Nutrient Medium | |
| --- | --- |
| Pancreatic-digest of Casein Peptone | 15.0 |
| Enzyme-digest of Soya Bean Pepton | 5.0 |
| Sodium Chloride | 5.0 |
| Lecithin | 0.7 |
| Tween 80 | 5.0 |
| L-Histidine | 0.5 |
| Agar | 15.0 |
the Microbiological Performance Test is carried out in accordance with the requirements BS EN ISO 11133:2014 and PhEur. (Microbiological Examination of Non-Sterile Products in accordance with Chapter 2.6.13.
Productivity
Incubation conditions: 2–3 days at 30–35°C; Inoculum concentration: 10–100 CFU
Organism
Type Strain
Specification
Colony morphology
Staphylococcus aureus
ATCC 6538 / WDCM 00032
50–200 %
Medium, slightly yellowish colonies
Pseudomonas aeruginosa
ATCC 9027 / WDCM 00026
50–200 %
Medium, slightly yellowish colonies
Bacillus subtilis
ATCC 6633 / WDCM 00003
50–200 %
Large, flat, dry, irregularly shaped colonies
Candida albicans
ATCC 10231 / WDCM 00054
50–200 %
Small, white, dry colonies
Aspergillus brasiliensis
ATCC 16404 / WDCM 00053
50–200 %
Dark brown to black conidia on light mycelium
Candida albicans
(3–5 days at 20–25°C)
ATCC 10231 / WDCM 00054
50–200 %
Small, white, dry colonies
Aspergillus brasiliensis
(3–5 days at 20–25 °C)
ATCC 16404 / WDCM 00053
50 – 200 %
Dark brown to black conidia on light mycelium
Microbial contamination
Incubation conditions: 5–7 days at 20–25°C and 5–7 days at 30–35 °C
Specification
No growth present