Enterokokken-Selektiv-Agar nach Slanetz-Bartley (ESB)
According to ISO 7899-2:2000
| | |
| --- | --- |
| Abbreviazione: | ESB |
| Numero articolo: | 40-1132 |
| Scheda: | Petri Dish, 90mm |
| Colore: | Yellowish to light red |
| Condizioni di stoccaggio prodotti: | Dry, in closed bag at 4 – 10°C. |
| Data di scadenza: | 4 Months |
| Valore pH: | 7.2 ± 0.2 at 25°C |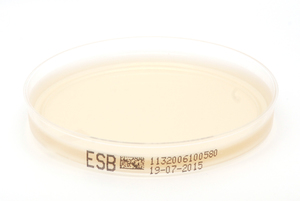 Slanetz and Bartley Selective Agar for the isolation and identification of Enterococci in water. The Sodium Azide contained in the Slanetz and Bartley Selective Agar inhibits non-target microbiological flora ensuring a high selectivity for Enterococci. Tri-phenyl-tetrazolium chloride is added to the medium so that Enterococci colonies are visualised as red, maroon or pink coloured colonies.
in g per 1 Litre of Nutrient medium
Tryptose
20.0
Yeast Extract
5.0
Glucose
2.0
Di-Potassium Hydrogen Phosphate
4.0
Sodium Azide
0.4
2,3,5-Tri-Phenyl-Tetrazolium Chloride (TTC)
0.10
Agar
10.0
*Adjusted as required to meet performance standards

The Microbiological Performance Test is carried out in accordance with the requirements ISO 11133:2014.

Productivity
incubation conditions: 44 ± 4 hours at 36 ± 2 °C; Inoculum concentration: 80 – 120 CFU
Organism
Type Strain
Specification
Colony morphology
Enterococcus faecalis
ATCC 19433 / WDCM 00009
50 – 130 %
Red, maroon, pink colonies
Enterococcus faecium
ATCC 6057 / WDCM 00177
50 – 130 %
Red, maroon, pink colonies
Selectivity
Incubation conditions: 44 ± 4 Hours at 36 ± 2 °C; Inoculum concentration: 10.000 – 1.000.000 CFU
Organism
Type Strain
Specification
Colony morphology
Staphylococcus aureus
ATCC 6538 / WDCM 00032
Complete inhibition
-
Escherichia coli
ATCC 8739 / WDCM 00012
Complete inhibition
-
Microbial Contamination
Incubation conditions: 5 – 7 days at 20 – 25 °C and 5 – 7 days at 30 – 35 °C
Specification
No microbial contamination