Tryptose-Sulfit-Cycloserin-Agar (TSC-Agar) (TSC)
| | |
| --- | --- |
| Abbreviazione: | TSC |
| Numero articolo: | 40-1241 |
| Scheda: | Petri Dish, 90mm |
| Colore: | Light beige |
| Condizioni di stoccaggio prodotti: | Dry, in closed bag, at 4 – 10°C. |
| Data di scadenza: | 4 Weeks |
| Valore pH: | 7.6 ± 0.2 at 25°C |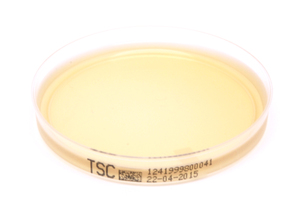 Tryptose-Sulfit-Cycloserin-Agar is used for the presumptive identification and enumeration of Clostridium perfringens and other sulfite-reducing Clostridia in food, water and clinical samples. It contains nutrients to promote the growth of Clostridia and ensure their rapid proliferation. The inclusion of Ammonium-Iron-(III)-Citrate and the Sodium Meta bisulphite are indicators of sulphite reduction by Clostridium perfringens which produces black colonies.
in g per 1 litre of nutrient medium
Tryptose
15.0
Soya Bean Peptone
5.0
Yeast Extract
5.0
Sodium Meta bisulphite, anhydrous
1.0
Ammonium Iron (III) Citrate
1.0
D-Cycloserine
0.4
Agar
12.0
*Adjusted as required to meet performance standards
The Microbiological Performance Test is carried out in accordance with the requirements ISO 11133.
Productivity
Incubation conditions: 21 ± 3 hours at 44 ± 1 °C; Inoculation concentration 80–120 CFU; Anaerobic incubation.
Organism
Type Strain
Specification
Colony morphology
Clostridium perfringens
ATCC 13124 / WDCM 00007
50 – 130 %
Black colonies
Selectivity
Incubation conditions: 21 ± 3 Hours at 44 ± 1 °C; Inoculum concentration: 10,000 – 1,000,000 CFU; Anaerobic incubation
Organism
Type Strain
Specification
Colony morphology
Bacillus subtilis
ATCC 6633 / WDCM 00003
Complete inhibition.
-
Microbial Contamination
Incubation conditions: 2–7 days at 20–25 °C and 5–7 days at 30–35 °C
Specification
No microbial contamination